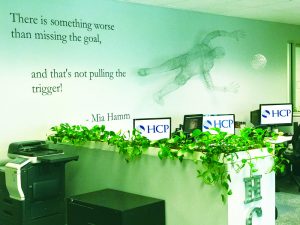 "There is something worse than missing the goal, and that's not pulling the trigger."-Mia Hamm
At some point in life we all question our progress in life. Even the most motivated can feel unmotivated at times. So, what motivates you for success? Do you keep a journal, read, or set goals?
Mia Hamm is considered one of the best female soccer players in history. She is a two-time Olympic gold medalist and a two-time Women's World Cup champion. Did you know she was born with a club foot? She wore casts as a child to help correct it.
At 15, Hamm was the youngest player to play for the U.S. women's national soccer team. She did not score a single goal during her first year on the team.
Not everyone can reach Olympic status or become a soccer pro, but she never quit.
Through all her success, Hamm remains a great inspiration to women. Hamm once said, "I am a member of the team, and I rely on the team, I defer to it and sacrifice for it, because the team, not the individual is the ultimate champion."
The quote on the wall is a great reminder to find your passion. Sometimes we have to fail in order to succeed. We learn from our mistakes. You'll never know until you try!